Poetry from a post about cosmetics, what more could you want?
I don't even know where to begin with this post. If you've come here looking for rhyme and reason, you will be disappointed. But then people who have read this blog before know that I don't adhere to structures very well.
Anyway, N-N-N-NARS Albatross. A darling of the makeup world. Everyone loves it. Just like everyone loves
YSL's Touche Eclat
..which I found to be a bit crap. But then I only used shade 3 as when I had it, they only had three shades. I might venture back actually.. But then whenever I go to the YSL counter, I fall in love with their
cream blushers
..which are a very expensive lover.
Getting back to Albatross; it just looked like a white eyeshadow to me. I swatched it countless times and it was just a chalky white mess on my finger and it would never blend out.
Then came my Albatross watershed moment. I saw
this lovely lady
wearing it and harangued her into telling me what it was that had given her cheek the kind of sheen that I'd never been able to find. She told me it was the famous Albatross..
Now I'm not one to jump on a bandwagon..the only wagon I jumped on with wild abandon was
Barry M's Instant Nail Effects
. I can count on the fingers on one hand the amount of times I've used that polish.
Months went by and then I went to India to pick up things for my cousin's wedding. I also found my own desi wedding dress which is perfect, it's as if someone knew I was going to this shop and made a dress that would be perfect for me.
Whilst I was in India, I got an email about a 25% off code from HQHair.. Well, you know what happens. You call your husband and tell him to order makeup for you. It was waiting for me when I got back. I'd say that I was more excited to see this than Simon but that'd be a lie and I'm not that coldhearted.
Look at all that highlighter-y goodness!
So, does it live up to the hype?
Hell yes.
It looks like a cheap white eyeshadow when you dab your finger in it but it transforms once you've got it on your cheeks. I have been looking super glowy ever since I got back from India and I'll be looking glowy until it runs out!
I'm using my
Revlon blush brush
but I'd suggest getting a kabuki. I did have a kabuki but a rogue dog decided to chew it. It's alright though, I know where this dog lives. I dab my brush into it once and that's enough for one cheek. If you swirl it then you're asking for trouble as I did that the very first time I used it and I had to remove it and re-apply.
If you don't have a brush then you could just use your fingers..
Where do I use it?
Although it looks nice on its own, I think that to get the best from it, you should layer it over another blusher. I tend to layer it over blushers with little shimmer in them. I know it's hard finding a decent matte blusher so I use the next best thing.
It costs £20.50 which is quite costly for a highlighter but believe me, I was totally converted once I used it myself..and it's sold in a lot of online shops and they often have codes flying about the place. If you're hesitant, I'd suggest going to a decent NARS concession (the people on the Selfridges one in London are fantastic) and asking them to apply it on you. Then check it in both indoor and outdoor light to see how you look.
I have the standard complaints about the rubberised packaging but I don't think NARS will change it anytime soon. Mine looked mucky the very first time I touched it and I've given up trying to keep it neat and tidy.
PS, did anyone else study the The Rime of the Ancient Mariner by Coleridge at school? That's the only thing I can think about whenever anyone mentions the word albatross, mainly because the poem says..
"Water, water, every where,
And all the boards did shrink;
Water, water, every where,
Nor any drop to drink."
I always think of the line "water water everywhere, nor any drop to drink" whenever someone mentions NARS Albatross. This is because after we studied this poem, I went on the Windsor boat ride thing with my family. My brother (who at the time was 10) kept whinging about being thirsty. My dad told him to drink some of the water from the river and I piped with up that line and explained what it meant (that you'd go mad if you drank sea water). My dad's reply to this was something along the lines of me not having to worry about that seeing as I was already mad enough as it was..which was nice.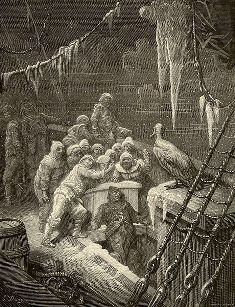 And if they had the NARS version of Albatross on board then atleast they'd have made pretty corpses..and I doubt they'd have gone mad..unless they caught highlighter induced hysteria, which is a very real thing as it's the reason behind this post.
PS, if you want to buy it then it's available direct from the NARS site but their delivery costs are £6 which is a lot more than I'd like to pay. You can also pick it up from
HQHair
where delivery is free!